The peaceful, rural city of Arcadia, OK, is the perfect place to achieve the serene small community lifestyle that so many desire. Residents of Arcadia are not strangers to outdoor activity and togetherness, and for many, the front and backyard is the first choice in destination. When it comes to creating the perfect residential space for outdoor activity, the first step is having that perfect lawn space. So many of us desire a backyard landscape that remains beautiful no matter the time of year and this can be difficult to achieve when common landscape obstacles come into play such as mud, dead grass, and holes dug in the lawn. However, now you can enrich your residential and commercial landscapes with the most natural looking and feeling Arcadia artificial grass from SYNLawn Oklahoma.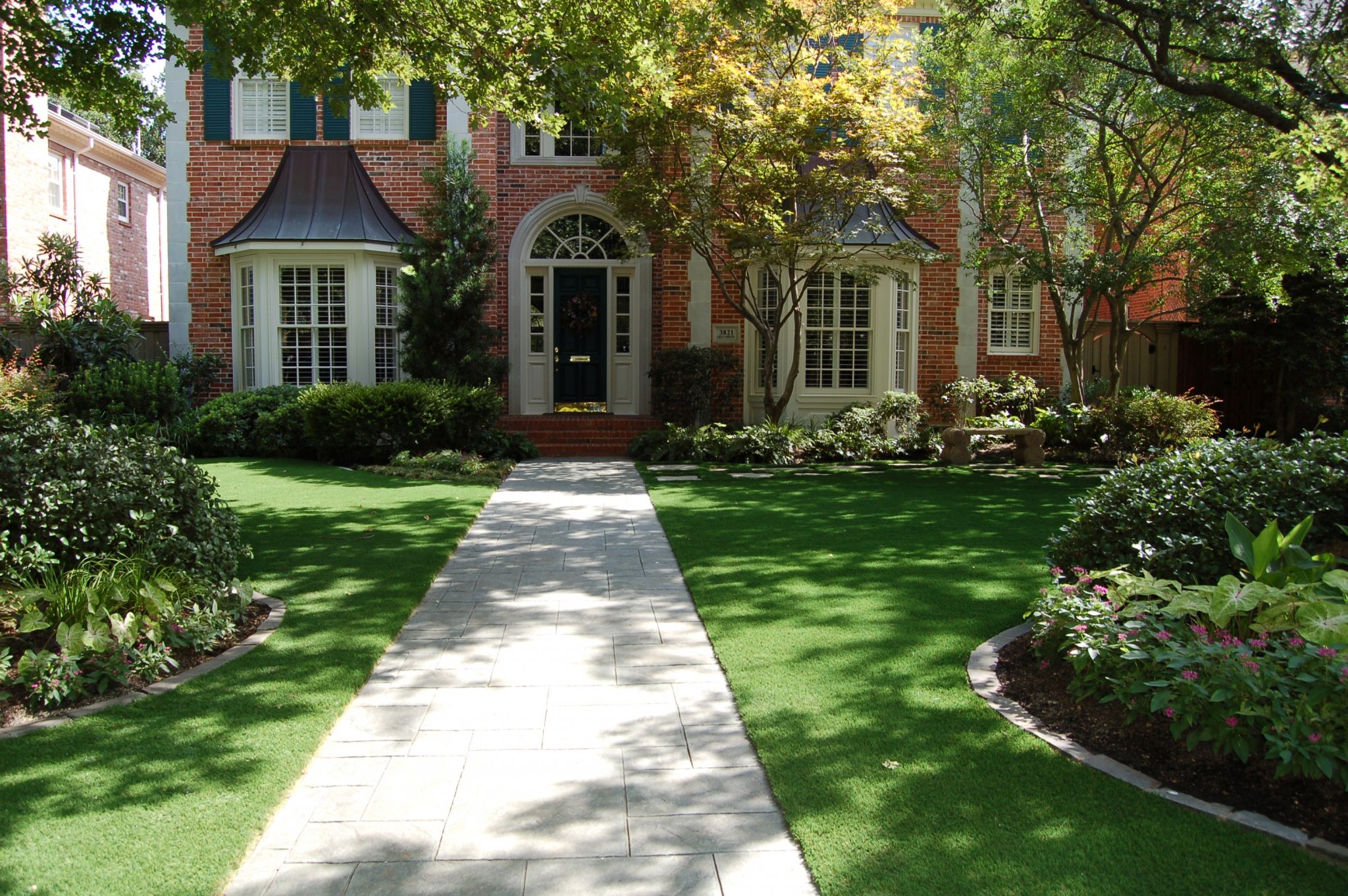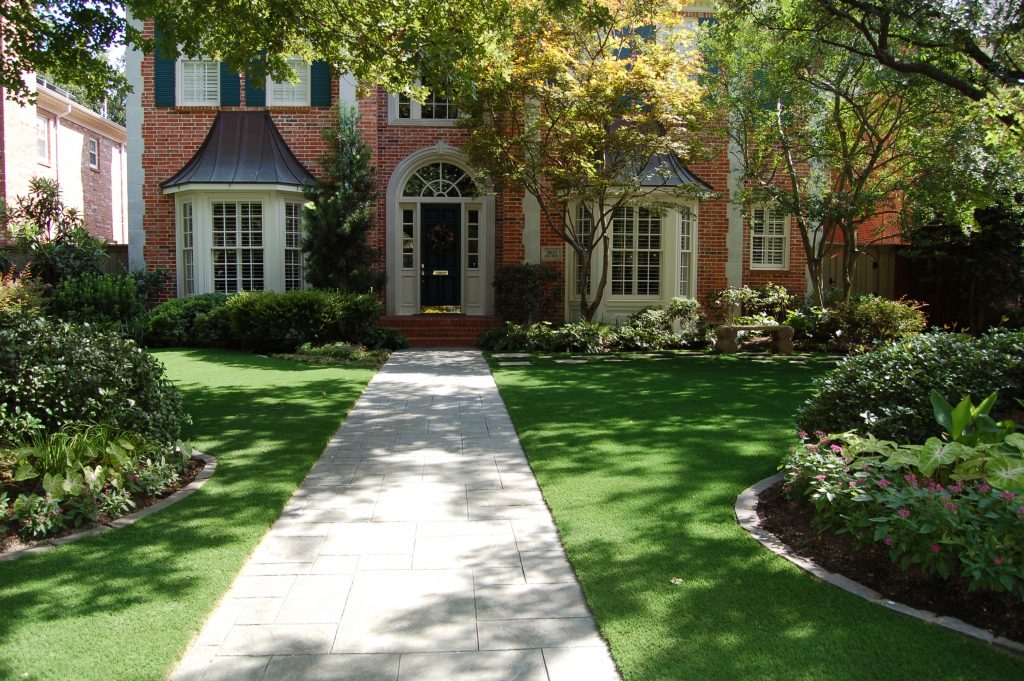 With SYNLawn Oklahoma artificial turf, home and business owners in Arcadia, OK can remove the traditional maintenance requirements of real grass while still enjoying the lush appearances and natural behaviors. Regardless of the climate or weather patterns, our synthetic grass lawns provide reliable and awe-inspiring spaces for outdoor fun. For more than 50 years, SYNLawn has dedicated meticulous research and development towards creating exclusive technologies and benefits that prove to be the perfect choice for any artificial grass installation in Arcadia, OK.
Additionally, we are fully committed to providing the first and largest collection of environmentally conscious synthetic grass products. To do so, we work alongside US farmers to manufacture our synthetic grass with renewable materials derived from sugar cane and soybeans. This allows us to reduce our carbon footprint from the manufacturing process to years after the completion of any lawn installation. Additionally, each Arcadia, OK synthetic grass installation helps contribute to the conservation of tens of thousands of gallons of water annually. In fact, many of our customers save up to 50 to 70% on their water bill after they install our highly rated artificial grass in their landscapes.
Proprietary technologies and benefits found in our Arcadia, Oklahoma artificial turf installations include:
Super Yarn™ technology, which combines DualChill™ IR reflective technology, StatBlock™ anti-static, and Sanitized® antimicrobial at the molecular level to produce a revolutionizing turf yarn formula that is cleaner, safer, and longer lasting than any other turf yarn on the market
EnviroLoc+™ backing system is our incredibly resilient turf backing made from soybean oil that extends the life of every installation by anchoring turf fibers to prevent shedding
HeatBlock™ technology allows for cooler surface temperatures on hot and sunny days
IPEMA certified options for school landscapes, municipalities, and other commercial artificial grass installations
ASTM E108 Class A fire-rated products that are perfect for rooftop installations and applications in need of additional fire safety benefits
We offer synthetic turf backed by the strongest warranty against reflective light for installations exposed to harmful window reflections
Unmatched limited lifetime warranty
Monthly payment plans and more!
Custom Putting Greens in Arcadia, Oklahoma
Imagine the freedom and luxury of having your very own putting green to practice your short game in the comfort of your own backyard. At SYNLawn, we make this possible with our professional-quality Arcadia golf greens that can be custom tailored to fit any shape or size landscape. Arcadia golf turf provides PGA-caliber ball performance and durability to replicate the same golf experience that you would find on your favorite courses around the globe. We partnered with legendary golf coach Dave Pelz to engineer golf grass in Arcadia, OK that provide a realistic putt, true ball roll, and proper energy distribution to ensure a natural ball bounce and slow down property. We can customize your premium golf greens to include sand traps, tee boxes, LED cup lights, custom flags, elegant landscape elements and much more! Perfect for any residential or commercial golf green installation in Arcadia, Oklahoma.
Safer Playground Surfaces with SYNLawn Oklahoma Playground Turf
Every child should be able to play on their local playground safely and confidently. Every SYNLawn Oklahoma playground surface is designed to meet the highest safety standards with IPEMA certifications, ADA compliance, and ASTM Class A fire-ratings. Whether you wish to install our playground grass at your school, public park, or backyard, we can provide you with the perfect solution. With our lush, soft, and non-abrasive artificial grass for playgrounds in Arcadia, OK, you can provide the kids with a safer playground flooring that you can trust. We offer shock-absorption cushioning that can be installed underneath the turf to enhance injury prevention and protect against falls that may occur on the playground. Additionally, we can add incredibly tough and easily replaceable TrampleZone™ landing pads beneath jungle gym entryways, swing sets, and slide exits to provide enhanced durability and convenience in the event that damage may occur from vigorous activity.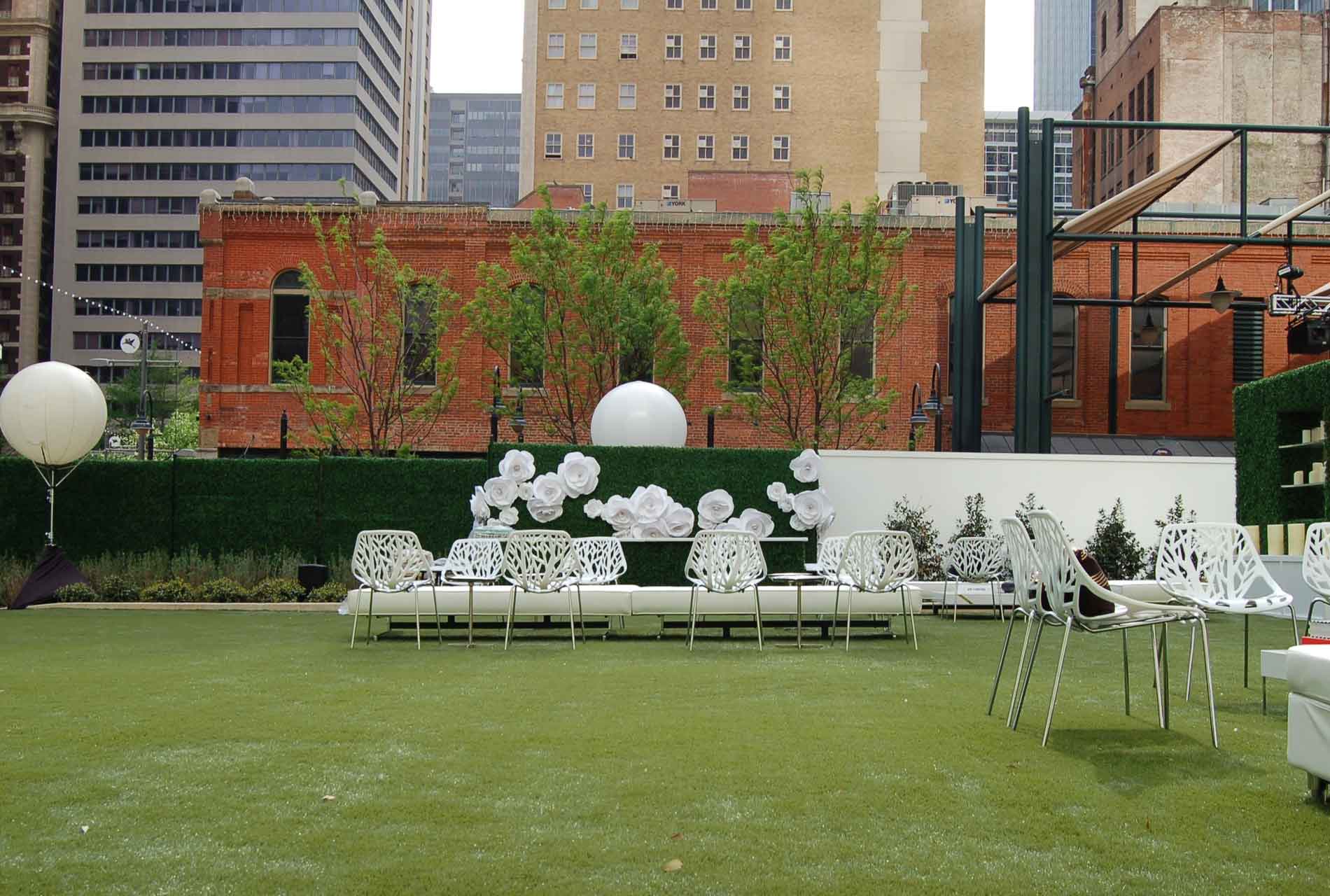 The Cleanest and Safest Pet Turf in Arcadia, OK
Pet owners love their canine and feline companions and so do we! Among the many innovating products offered by SYNLawn, our pet-friendly artificial grass solutions are perfect for any residential or commercial landscape's pet accommodation. Arcadia pet turf systems offer a Sanitized® antibacterial surface that eliminates 99% of stain and odor-causing bacteria to provide cleaner and more sanitary lawn surfaces. In addition, our products are free of harsh chemicals and heavy metals that may potentially harm your pet.
SYNLawn pet turf features several benefits not found in natural grass or competing turf brands such as:
Stain and odor resistance thanks to Envirofill® pet-friendly infill and Sanitized® antimicrobial
Optimal drainage allows for immediate use after rain or water exposure
Envirofill® infill is and acrylic sand infill that prevents odors and stains caused by ammonia in pet waste
Hypoallergenic for pets and pet owners that are sensitive to allergens
Superior durability that prevents pets from digging through the turf
Cooler surface temperatures to prevent pets from burning their paws
Arcadia, OK Synthetic Green Walls for Interior Designs and Landscapes
The popularity of artificial living wall installation in Arcadia, OK is on the rise. Made with ultra-realistic faux foliage and vibrant blossoms, our unique 3-panel VistaFolia system makes it easy to green spaces where real plants are unable or too expensive to grow and maintain naturally. Additionally, with our unique VistaFolia green wall panels, no two installations will look the same offering a truly individual installation for each of our clients. VistaFolia artificial plant walls do not require trimming, pruning, or watering, eliminating the need for cumbersome maintenance and messy irrigation systems. Additionally, artificial living walls make for serene and sanitary workspaces as they promote a calm mentality and touch-free cleaning as they only require occasional dusting.
100% pure color pigments that never fade
8 varieties of bright colors and lush textures to customize your panels with
Built to endure even the most extreme weather conditions
Suitable for indoor & outdoor applications
Provides enhanced noise reduction and privacy screening
Fully fire-rated and certified
Backed by a 5-year warranty
SYNLawn is the leading manufacturer and customer-driven installer of eco-friendly and ultra-realistic artificial grass in Arcadia, Oklahoma. We are fully licensed and insured to complete multimillion-dollar projects in their entirety, whether they are residential or commercial. We work closely with industry professionals including architects, landscape designers, general contractors, interior designers and more, to ensure that our clients receive a consistent and high-quality installation regardless of its size. For more information about our Arcadia, OK artificial turf installation services and products, contact SYNLawn Oklahoma today to schedule a free consultation!