Tulsa, OK Artificial Grass
SYNLawn artificial turf is low-maintenance and looks great year-round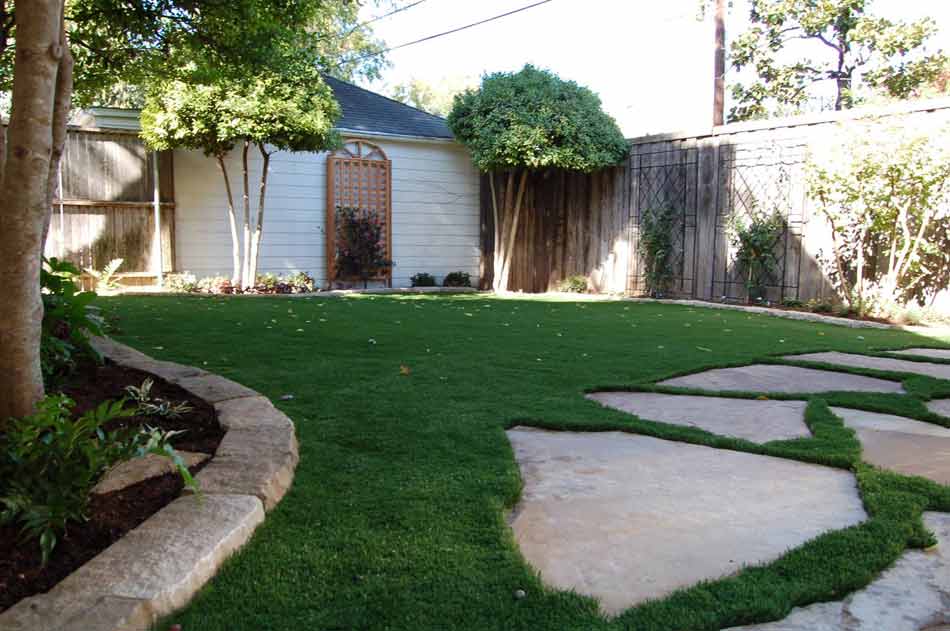 Throughout the city of Tulsa, OK, artificial grass is in more outdoor spaces than ever before. It's more than just pretty to look at for stylish curb appeal; it also makes a great surface for putting greens, sports practice areas, dog runs and kennel areas, and even playgrounds.
Many Tulsa homeowners are switching to artificial turf for landscaping and playground surfaces in their front and backyards for the time-saving benefits. Consider how long it takes you mow, trim, and water the lawn before the kids can play outdoors. You may also spend considerable time fertilizing, de-weeding, and fixing broken sprinkler heads. These are all the minutes and hours you save when you opt for a lush, synthetic grass yard. Watering is reduced to only minutes each week. You can even sell your mower, trimmers, and edgers because you'll no longer need them!
The synthetic grass options available from SYNLawn Oklahoma are specially formulated to give you a beautiful and safe lawn all year long. Enjoy these artificial grass benefits at your Tulsa home:
Made in the U.S.A.
Formulated from recyclable materials
Stays cool to the touch with HeatBlock™ Technology
Reduces contaminants from fertilizers and pesticides
Lessens carbon emissions from lawn equipment
SYNLawn Oklahoma's professionals are able to integrate artificial grass into landscaping designs for residents in Tulsa and nearby areas. Many love our landscape designs because our synthetic lawns provide plenty of opportunities for you and your family to embrace the outdoors and have backyard fun. Consider practicing soccer kicks, baseball bat swings, football plays, short game putts, or just be downright silly with your kids while doing cartwheels and a friendly game of tag. For areas with playground equipment, consider our playground systems with extra padding under strategic landing points for improved safety. The opportunities are endless when you have a dependable landscaping surface.
The secret to SYNLawn Oklahoma's success is our products. We use high-quality artificial turf blends that have one of the best manufacturer's warranties in the business. Our synthetic grass lines have years of technological advancements built in, one of which is our environmentally-friendly backing. This includes a multi-layer system made from sustainable and renewable resources including recycled plastics and soybean oil. We even recycle all our artificial turf after use for further sustainability and product manufacturing. Proven and tested by kids and pets, our artificial grass is a surface everyone loves.
Talk to SYNLawn Oklahoma today about artificial grass installation for your Tulsa home. Fill out our contact form to schedule your free consultation.