Artificial Grass Installation in Nichols Hills, Oklahoma
SYNLawn® has invested over 50 years of research and product development to create exclusive technologies like Super Yarn®, HeatBlock™, and Enviroloc™, that set us apart from other competing brands.
Super Yarn®, the cleanest and most advanced turf system available combines three molecular components: Sanitized® antimicrobial technology, DualChill™ reflective technology, and StatBlock™ anti-static component. Enviroloc™ is a plant-based backing system that replaces petroleum-based polymers with soybeans to enhance strength and stability while improving environmental sustainability and product lifespan. Finally, HeatBlock™ lowers fiber temperatures by reflecting sunlight and reducing heat build-up.
With the help of these one-of-a-kind technologies, we've designed superior options for all of your artificial turf needs. SYNLawn® provides the highest quality, true-to-life artificial grass, that requires virtually no maintenance, won't fade or tear over time, is 100% recyclable, and is the safest for your children and pets.
Nichols Hills residents choose SYNLawn® artificial grass because of how stunningly realistic it is, how much water they save, and how little it takes to keep it looking lush and vibrant year after year. SYNLawn® artificial turf is an investment that saves you time and money by removing the need to water and mow, pull weeds, clean up pet stains, or repair holes. In addition, SYNLawn® turf products on average are designed to cut your water bill in half. SYNLawn® eco-friendly synthetic grass is manufactured in the USA with US farmed soybean oil and sugar cane. Our products 100% recyclable and a prime example of our dedication to environmental sustainability. SYNLawn® Oklahoma provides turf solutions for residential and commercial installations of putting greens, pet turf, playground turf installations, and more!
SYNLawn® partnered with professional golf coach Dave Pelz to create PGA-caliber putting surfaces that replicate the same performance found on professional golf greens. With how popular golf is here in Oklahoma, the only option for turf becomes SYNLawn®.
SYNLawn® putting greens off unique features such as:
Realistic putt with true ball roll and natural slow-down characteristics
100% nylon fibers provide year-round weather resistance, long-lasting durability, and vibrance
Fairway, fringe, and rough surfaces
UV protection to prevent color fading
Custom designs available for all skill levels, budgets, and indoor/outdoor spaces
Portable putting green options
No maintenance costs
SYNLawn® Greenmaster™ installers follow strict specifications on every project to provide customers with a golf experience that rivals any pro course putting greens. Add obstacles such as chipping surfaces, sand traps, slopes, LED cup lights and more. Our putting green turf is the perfect choice for passionate golfers that want to make the most out of their training at home.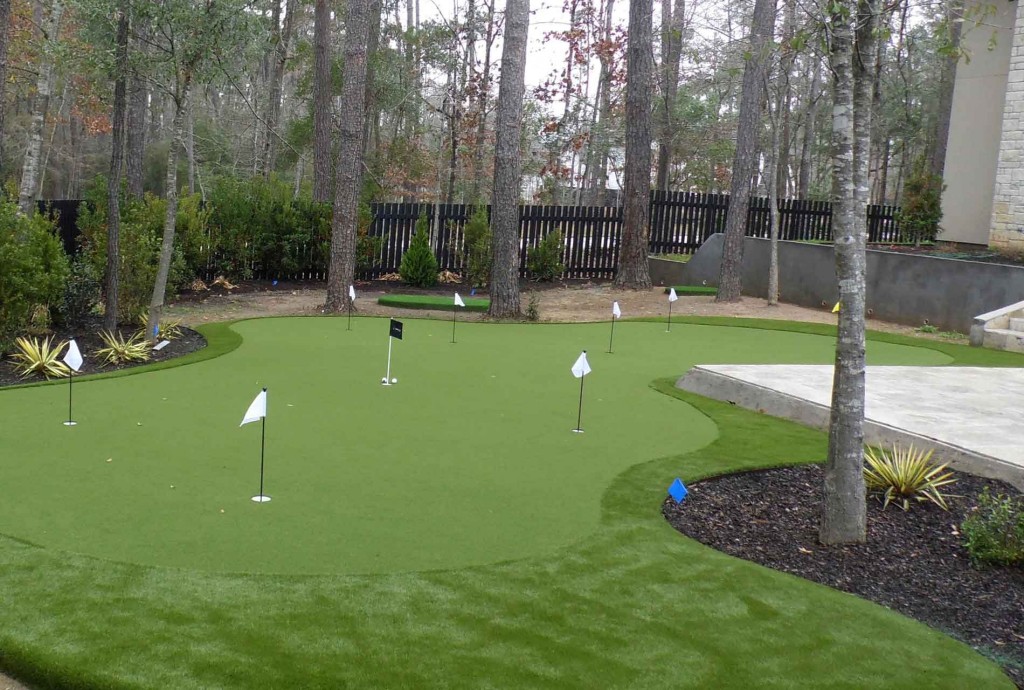 SYNLawn® provides a one-of-a-kind, pet-safe, and odor-free synthetic turf to clean up commercial or residential, indoor, or outdoor dog runs, kennels, or other pet areas. Our pet turf is incredibly easy to clean thanks to state-of-the-art Envirofill® technology and our exclusive Super Yarn™ technology that features an effective antimicrobial agent that eliminates 99% of bacteria. The SYNLawn® Pet System is easy to clean and incredibly durable, promising less time spent on maintenance and more time spent with your pets.
The foundation of SYNLawn® playground turf starts with the highest safety standards, guaranteed. Most playground injuries occur when a child falls from the equipment onto a hard, abrasive, or otherwise unsafe surface. SYNLawn® playground turf shock absorber protects children if they fall from playground equipment as high as 10-feet, following CSA and IPEMA approved fall guidelines. In addition, our exclusive Sanitized® antimicrobial technology stops the spread of germs and infections by eliminating 99% of surface bacteria and odors from pet waste. SYNLawn® created a playground surfacing system that makes all the difference. Our certified playground turf options are the ideal playground flooring option for school districts, city parks, residential and commercial Nichols Hills playgrounds.
Contact us today to learn more about how SYNLawn® Nichols Hills artificial turf can change your living space, commercial landscape and more, using the most advanced technologies to date, the highest safety standards, and the most precise design teams the industry has to offer.