Enid, OK residents are taking advantage of the numerous benefits of SYNLawn Oklahoma artificial grass and putting greens for their residential and commercial applications. Homeowners and businesses alike, all desire a luxurious and vibrant lawn space but do not always want to commit to the upkeep that is required. Enid, OK artificial turf from SYNLawn eliminates traditional maintenance requirements, is made from eco-friendly and plant-based materials, and is safe for children and pets. SYNLawn products are designed to withstand any climate, resist fading with their UV-stabilized fibers, and last for decades thanks to our cutting-edge turf technologies.
Super Yarn™ Technology – Includes antimicrobial, antistatic, and IR reflective enhancements at the molecular level to create the most advanced turf yarn formula available
HeatBlock™ Technology – Significantly cools surfaces up to 20% more than any competing turf brand; can be combined with temperature controlling infill for additional temperature control
Omega Blade Technology – Provides long-lasting blade integrity and installation realism
EnviroLoc+ Backing – plant-based backing system prevents turf shedding and increases installation lifespan; provides superior drainage, prevents digging and more
Maximum drainage allows for immediate use after rainfall and snow melt
IPEMA certification and ADA compliance provides additional safety and accessibility at every commercial landscape or playground
ASTM E-108 Class A fire-rated products for unrivaled safety against the outbreak of fires
Unmatched lifetime warranty
Made in the USA in Dalton, Georgia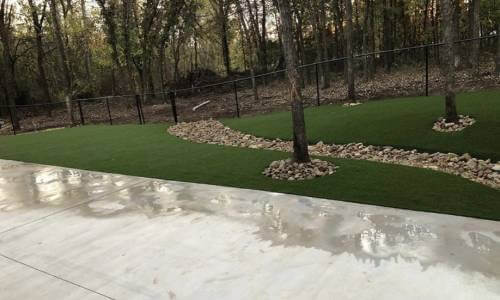 Commercial Artificial Grass Installation in Enid, Oklahoma
SYNLawn artificial grass in Oklahoma is growing in popularity for commercial installation on a continued basis. Business owners, landscape architects, general contractors, landscape designers and more, rely on SYNLawn products to ensure that they deliver the most realistic and elegant surroundings to date. Our commercial artificial grass is perfect for areas that experience heavy foot traffic and high activity. SYNLawn is also making it possible for commercial green builders and project specifiers to earn LEED credits by satisfying water conservation requirements and the utilization of recyclable and renewable materials.
SYNLawn Oklahoma commercial artificial turf is perfect for applications such as:
Lawns
Landscapes
Golf turf and putting greens
Playgrounds
Apartment complexes
Hotels
Restaurants
Sport facilities
Pet runs & dog parks
Backyard courts
Bocce ball
Roof, decks, patios, and more!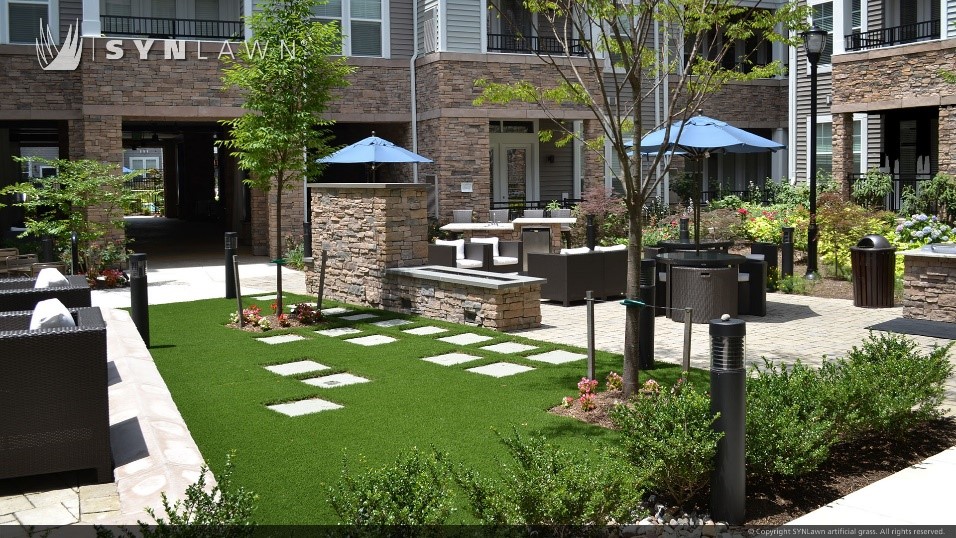 At SYNLawn, we are dedicated to providing environmentally sustainable faux grass in Oklahoma. We work closely with US soy farmers to replace significant amounts of petroleum with renewable soybeans and sugar cane. This has helped us become the first distributor of USDA-certified products that offer 60 to 80% bio and plant-based content. With their help, we can continue to conserve thousands of gallons of water, reduce nearly 90 pounds of carbon per lawn mower a year, and prevent further negative impacts on local landfills.
Professional Grade Enid, OK Golf Greens
Oklahoma is home to many exceptional golf courses, but what if you could sharpen your skills on PGA-caliber greens from the comfort of your own home? In collaboration with world-renowned golf coach Dave Pelz, we have created golf turf and putting greens that replicate real grass as closely as possible. They are specifically engineered to help you improve your short game, lower your scores, and provide a strong enough space to practice chipping and putting, that won't tear from consistent strikes.
Can only be installed by SYNLawn GreenMaster® certified installers
4 x 4 practice and the professionally installed t-strike lets you make a complete swing without grabbing the club head
One-inch-thick practice surfaces that allow you to use a real golf tee
Designed to improve the 80% of shots lost in the short game
Can help reduce your handicap
Customize to any space with the ability to add sand traps, LED cup lights, slopes and more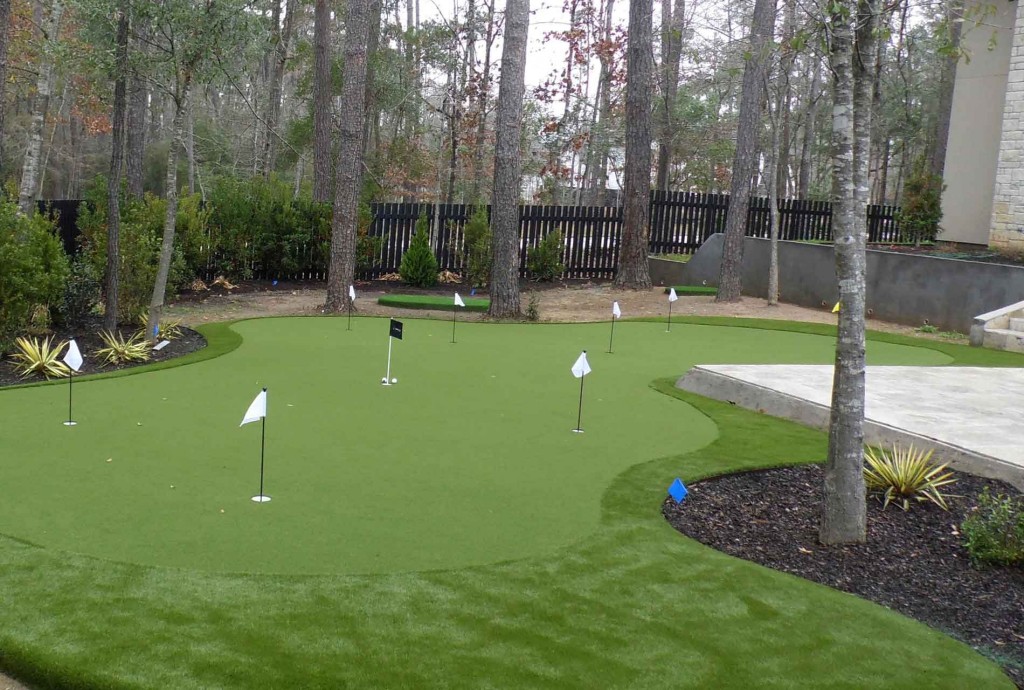 Enid, Oklahoma Pet Turf Systems by SYNLawn®
SYNLawn provides the cleanest, safest, and most realistic pet turf on the market. Our pet-friendly, Oklahoma artificial grass is extremely comfortable, made with safe materials, visually beautiful, as well as incredibly durable under heavy use. Unlike natural grass and competing turf products, Enid pet turf will always be appealing and enjoyable for pets and pet owners thanks to our exclusive turf technologies. Your grass will not become dark or faded, unpleasant to touch, or unsightly with holes and dead areas.
SYNLawn pet grass includes benefits such as:
Stain-resistant and very easy to clean
No brown or yellow dead grass spots caused by pet waste
Prevents moles and gophers from destroying the lawn
Optimal drainage keeps pet-friendly spaces free of mud and pooling
No dirt or mud is to be tracked into your home
Added security upgrades available for destructive and hyperactive dogs
Odor control through the utilization of pet friendly Envirofill® infill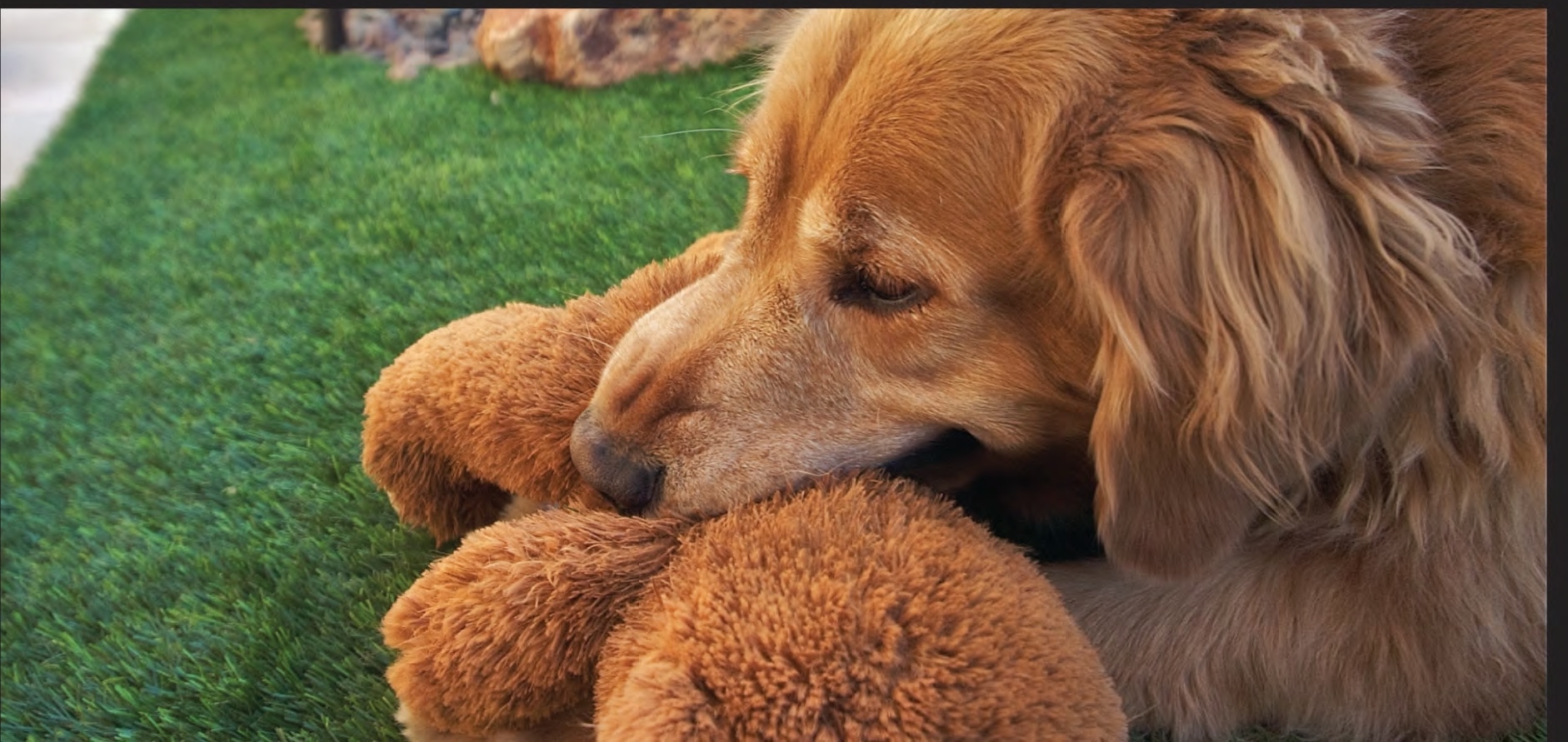 SYNLawn is dedicated to providing the highest quality artificial grass Enid, OK has to offer. For more than 50 years, SYNLawn has continued to provide products that are designed to innovate the market, meet the specifications of our customers, and last for decades. For more information about our eco-friendly and technologically advanced Oklahoma artificial grass, contact us today to schedule a free consultation!