Oklahoma Artificial Pet Turf
Provide your pets with the cleanest, safest, and most comfortable Oklahoma pet turf available! At SYNLawn, we know that there are many challenges that come with maintaining a landscape while raising a pet. Each pet has different needs and so does your landscape. As a result, SYNLawn has designed the perfect pet-friendly artificial turf solution for commercial landscape installations. We went back to the drawing board to closely analyze and formulate what would ensure that our ultra-realistic, luxurious Oklahoma pet grass would remain true-to-life in both appearance and behavior all year long.
SYNLawn Oklahoma pet grass provides low-maintenance, superior durability, advanced technologies, and eco-friendly benefits that all work together to create the perfect pet turf solution. With our plant-based turf products, pet owners can say goodbye to muddy paws in the wintertime and rainy seasons, holes that cost money to repair, and the many unwanted fleas, ticks, and other pests that love to make a home out of our furry friends.
The Benefits Included with Oklahoma Pet Grass
Depending on you and your dog's unique requirements, the SYNLawn pet turf systems offer a customizable solution for each pet application. Families and pets that choose SYNLawn synthetic lawns are always happy with their choice. Like all of our other incredible products, this one is no exception. SYNLawn pet systems provide a wide range of advantages that our competitors can't match such as cooler surface temperatures, stain and odor resistance, fade resistance, enhanced durability, unmatched limited lifetime warranty and more. Our advancement is the product of more than 50 years of research and development that no other company can match. SYNLawn takes care of everything. Your pet will be able to spend time outside in a safe and pleasant environment thanks to our pet systems.
SYNLawn® Synthetic Grass Goes Beyond SustainabilityThe Cleanest Pet-friendly Artificial Grass in OklahomaSYNLawn® Synthetic Grass Goes Beyond Sustainability
We know as well as you do that our pets can get into trouble. Sometimes they get carried away in the mud, and the last place we want them to end up is in the house. Other times, it may be fleas or ticks that bury themselves into the fur of our companions. To protect our pets from these undesirable scenarios, Oklahoma pet turf is manufactured with our revolutionary Super Yarn technology and EnviroLoc backing system. Super Yarn helps to ensure the exceptional durability of our products as well as keep your dog park or pet area cleaner and more enjoyable in the long run. Part of what makes Super Yarn so extraordinary is the highly effective antimicrobial by Sanitized®. Sanitized eliminates up to 99% of bacteria from our surfaces and keeps pests away so you won't have to spend money on expensive treatments to give your pet relief from fleas or ticks.
SYNLawn® Pet Systems are Designed to Drain
With the help of our plant-based backing system EnviroLoc+, Oklahoma pet turf provides maximum drainage. EnviroLoc+ is designed with a porous body to maximize the usability of SYNLawn surfaces even nearly immediately after pouring rain. No more mud accumulation means no more muddy pups in the house. Our new EnvirLoc+ additionally features another component of our Santized® antimicrobial to provide even more protection against stains and odors caused by pet waste.
No More Costly Repairs
Oklahoma artificial pet grass creates a safe environment that deters gophers, moles, and other rodents from settling in your yard without your permission. Consider our goods to be a more advanced security system against intruders. In addition, your pet will not be able to dig and break through the surface to bury their favorite toy or snack.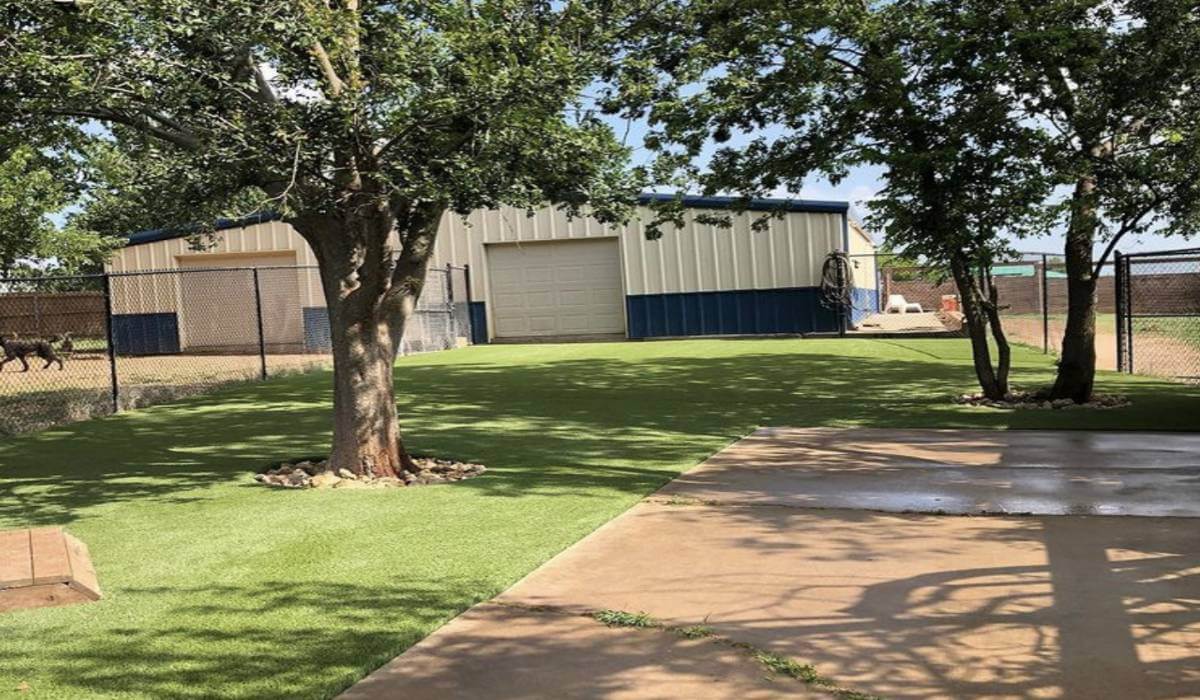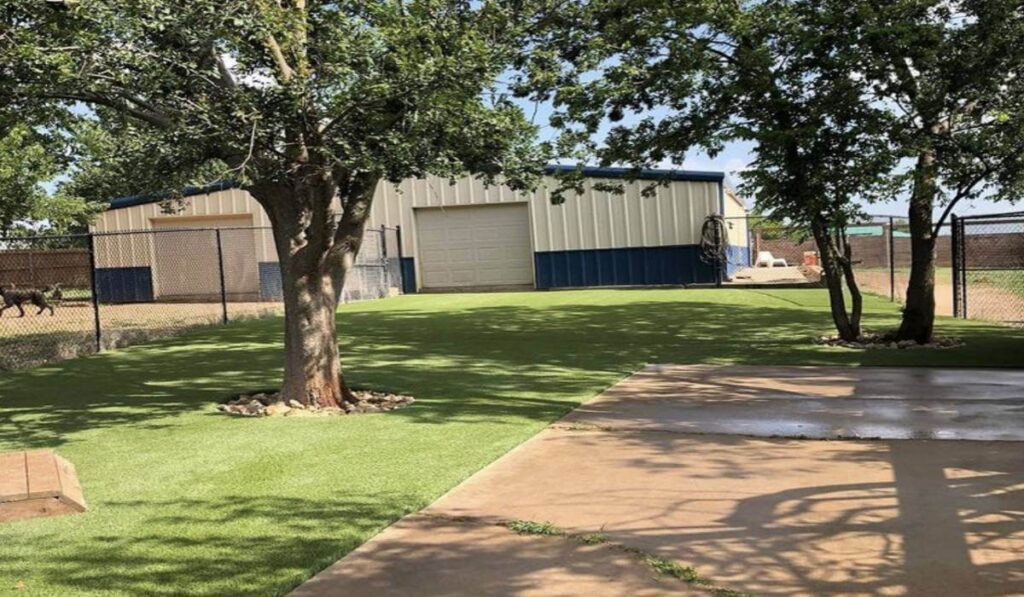 Say Goodbye to Unwanted Stains and Odors from Pet Waste
SYNLawn Oklahoma pet turf contains a highly effective infill which helps to minimize smells generated by ammonia in pet waste by up to 80%. Envirofill® is devoid of the harsh chemicals and metals that are occasionally present in artificial grass manufactured outside the US. Envirofill is constructed of acrylic sand, which is non-toxic to both dogs and children and will help keep paws cool on hot surfaces.
Schedule a Free Consultation Today!
More than 50 years of research and development sets SYNLawn in a league of its own throughout the artificial grass market. We work closely with landscape architects, architects, landscape designers, commercial property owners, general contractors, and more to create the safest, cleanest, and most durable eco-friendly environments. We take everything into consideration for our customers so they can focus on what's most important to them while giving complete creative control of their installation. For more information on how SYNLawn can transform your next pet area, dog park, dog kennel, doggie daycare and more, contact us to schedule a lunch and learn or free consultation today!