For many of us, the importance of having a luxurious yard all year long is of great importance. However, the time and money that it takes to maintain this yearly appearance can make it difficult. Bethany artificial grass from SYNLawn Oklahoma is designed to save customers time and money on maintenance with our revolutionary eco-friendly materials and exclusive synthetic grass technologies. Not only are you doing your part to promote environmental sustainability, but you will then be able to reinvest that time and money into your family activities, hobbies, and more.
Commercial property owners in Bethany, OK choose SYNLawn artificial grass time and time again for their many unparalleled benefits. The time-saving benefits and exclusive technologies are what truly set us apart from the competition and help our products last far longer than any other competing brand. We partner with US soy farmers source recyclable materials such as sugar cane and soybean oil that we utilize in the manufacturing process to remove significant amounts of petroleum from our turf. Since we manufacture our artificial grass in our own manufacturing facility in Dalton, Georgia, we have complete control and oversight of the manufacturing process to ensure that all of our turf products meet exceedingly high-quality standards. Our Bethany artificial grass offers superior durability and performance to ensure that every installation stands up to the heavy foot traffic that many residential and commercial landscapes face on a daily basis. SYNLawn artificial grass in Bethany, OK is also designed to endure even the most intense athletic training making it perfect for athletic fields, school landscapes, Bethany, OK playground surfaces and more!
SYNLawn Oklahoma synthetic grass saves customers up to 50-70% on their water bills by conserving tens of thousands of gallons of water annually, substantially reduces our carbon footprint by eliminating the need for lawn equipment and helps reduce our impact on local landfills by being recyclable. The opportunities for eco-friendly artificial turf in Bethany, Oklahoma are truly endless and as the leader in the turf industry, we feel it is our duty to provide products that are both environmentally responsible and of the highest quality.
Exclusive benefits and technologies of Bethany artificial grass include but are not limited to:
Super Yarn™ technology – the combination of three unique enhancements: Sanitized® for cleanliness, StatBlock™ for the prevention of static electricity accumulation, and DualChill™ IR reflective technology for the prevention of infrared light absorption
HeatBlock™ technology keeps our surfaces up to 20% cooler than any other turf brand on the market
Delustered finish and UV protection used to prevent fade and maintain turf's natural appearance
Increases property value by utilizing and enhancing commonly unused areas
Kid and pet-friendly landscape solutions perfect for playgrounds, play areas, and dog runs
Promotes environmental friendliness, water conservation, and carbon footprint reduction
Recyclable and plant-based materials
Made in the USA
Unmatched limited lifetime warranty
Monthly payment plans available
The Safest and Cleanest Bethany Playground Surface and Pet Turf Systems
Pets and children can safely play on and enjoy our artificial grass surfaces without fear of harm, injuries, muddy paws, dirty shoes, digging in the lawn and more. Our kid and pet-friendly artificial grass in Bethany, OK is designed with antibacterial properties to prevent stains, odors, and create more sanitary lawn surfaces. The enhanced durability of our turf supports the heaviest activity so the family can enjoy our artificial lawn space for years to come.
Furthermore, our Oklahoma playground turf is ADA compliant and IPEMA certified. This means that our products are wheelchair accessible and tested to ensure safety against falls and injuries that may occur on the playground. Our Bethany, Ok playground surfaces are safer than any other playground flooring on the market and remove potential hazards such as concrete, wood chips, gravel and more. Our soft turf fibers are non-abrasive and very comfortable to the touch. We utilize several turf technologies to enhance each Bethany playground installation, dog park, and municipality that uses SYNLawn artificial grass.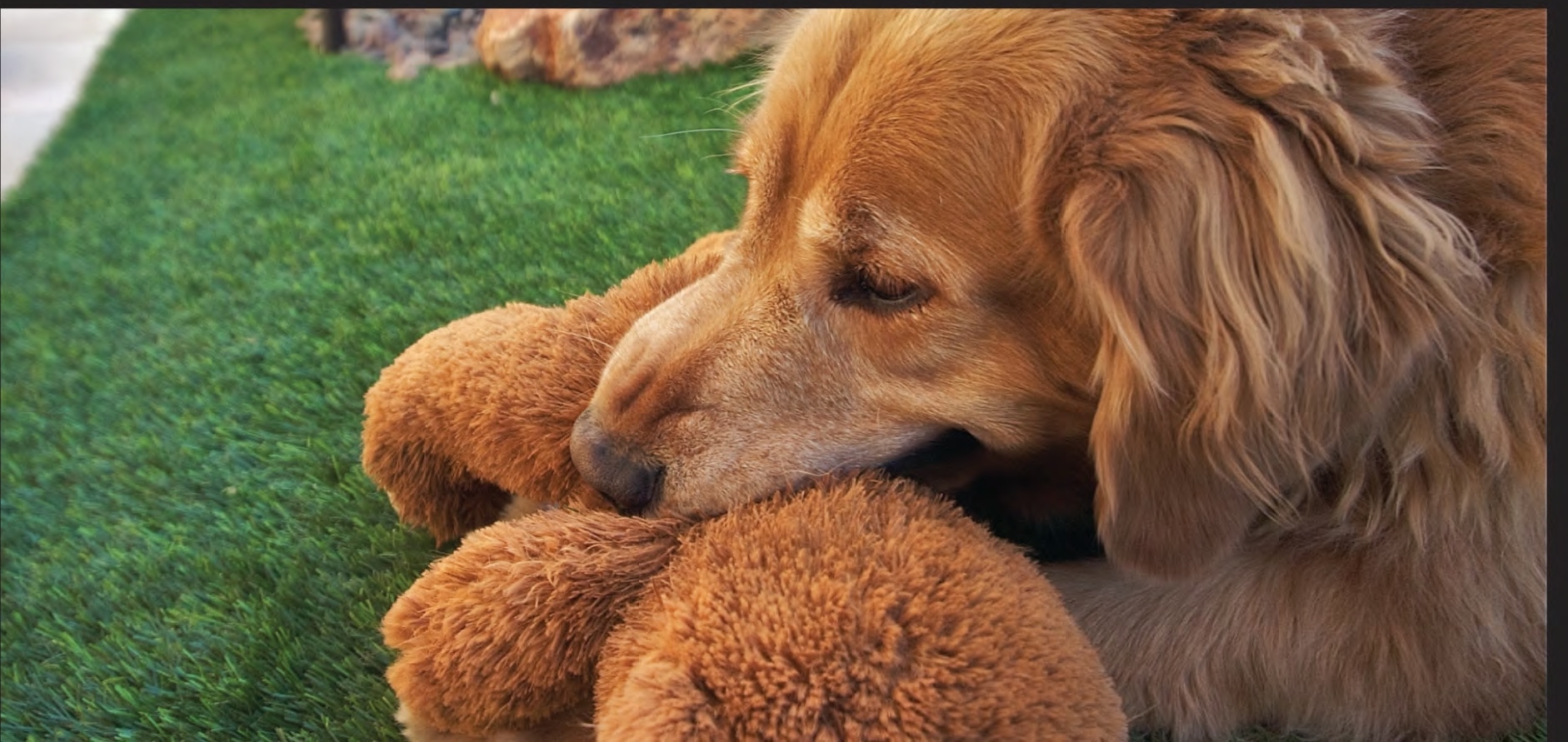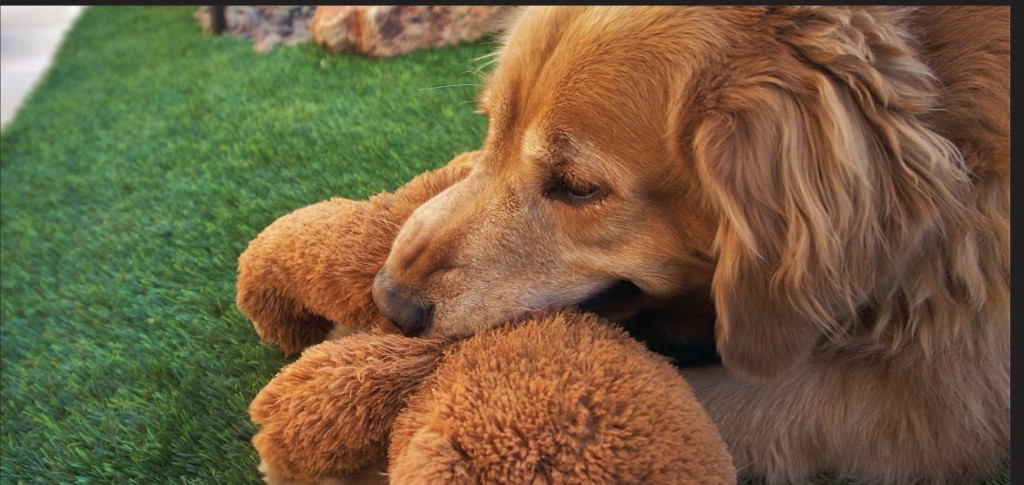 Our unmatched safety and cleanliness are made possible by several features such as:
Envirofill® infill is a kid and pet-friendly, acrylic sand infill that prevents odors and stains caused by ammonia in animal waste as well as prevents the buildup of bacteria and mold growth
Hypoallergenic surfaces for those with common allergies
Superior durability and performance to prevent pets from digging holes and damage caused by heavy activity
Free of harsh chemicals, heavy metals, and pesticides
Pests such as fleas and ticks can not make home in our synthetic turf
Our tough, soy based EnviroLoc backing system does not shift on impact ensuring long lasting safety and installation lifespan
Underneath our Bethany playground turf installations, we can add shock-absorbing padding for further injury prevention
Improve Your Short Game with Custom Golf Greens in Bethany, Oklahoma
Golf enthusiasts are loving the convenient access to their PGA-caliber SYNLawn golf greens installed in their own backyard. SYNLawn partnered with the world-renowned golf coach Dave Pelz, to engineer synthetic golf green turf that replicates the same ball performance found on some of the most famous golf courses across the world. Metrics such as ball roll, slow down properties, and natural ball bounce were meticulously tracked and replicated to provide home and business owners with a golf green that is truly authentic in its performance.


Bethany, Oklahoma putting greens by SYNLawn feature several unique benefits such as:
Custom-designed putting greens for indoor and outdoor use
Options available for every skill level, budget, and space
Realistic putt, true ball roll, and natural slow-down characteristic
Custom design with sand traps, LED cup lights, slopes, custom flags and more
UV protected to prevent color fading
Zero maintenance requirements
Designed to absorb and disburse energy like professional courses
Fringe, fairway, and rough surfaces are available
Quick assembly, non-skid portable putting greens available in many sizes
Precision installation services provided by certified SYNLawn GreenMaster™ professionals
Give Your Landscapes and Interior Designs a Makeover with VistaFolia® Synthetic Green Walls
Take your Bethany, OK interior design and landscape ideas to the next level with stunning artificial living walls by VistaFolia. The popularity of vertical plant walls is growing rapidly; however, it can be messy and expensive to grow and maintain real plant walls. With VistaFolia synthetic plant wall panels, you can enrich empty walls and unused vertical surfaces with lush, vibrant, and hyper-realistic foliage without the need for maintenance. Not only can our artificial greenery walls visually enrich any indoor or outdoor environment, but they can also provide increased privacy and sound insulation.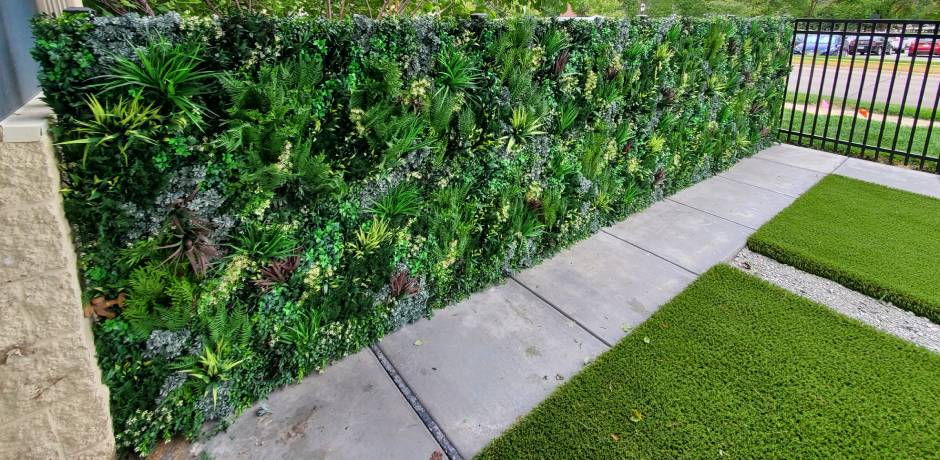 Faux plant walls from VistaFolia do not require trimming, pruning, or irrigation making them a top choice for living space design. With VistaFolia greenery panels installed in your business or office space, you can create a serene environment for your guests and employees. Often used in hospitality design, restaurant design, and commercial design, VistaFolia artificial living walls are an incredibly unique feature to any atmosphere. Our three-panel system ensures that no two designs are alike, feature UV stabilized foliage to prevent fading, are fire tested and certified, and can endure even the most extreme weather conditions.
With more than 50 years of experience, SYNLawn has paved its way to the top of the artificial grass industry. We work closely with industry professionals and our clients to ensure that each one of our installations is completed with precision and expert customer service. For more information on our Bethany, OK artificial grass and putting green installation services, playground turf, pet turf, or VistaFolia artificial green walls, contact SYNLawn Oklahoma today to schedule a free consultation!