Replace your residential landscape with the industry's leading artificial grass in Warr Acre, Oklahoma. SYNLawn Oklahoma artificial grass is capable of being installed for a comprehensive list of applications. We specialize in designing ultra-realistic grass alternatives that utilize eco-friendly materials, meet the highest safety standards, and resist fading all year long to ensure that your landscape is always luxurious and vibrant. We eliminate maintenance and save you money on lawn care equipment and wasted water. We offer the highest quality products at affordable pricing, backed by our unmatched limited lifetime warranty.
Commercial Synthetic Grass Installation
Landscape architects and designers love SYNLawn Oklahoma artificial grass for commercial lawn installation. Our products stand the test of time, endure any climate, and provide exceptional resistance to heavy foot traffic. When you choose SYNLawn, you gain access to our CAD details as well as earn points toward LEED programs for your commercial green builds. Our products offer exclusive features and technologies that set us apart and are the result of more than 50 years of research and development.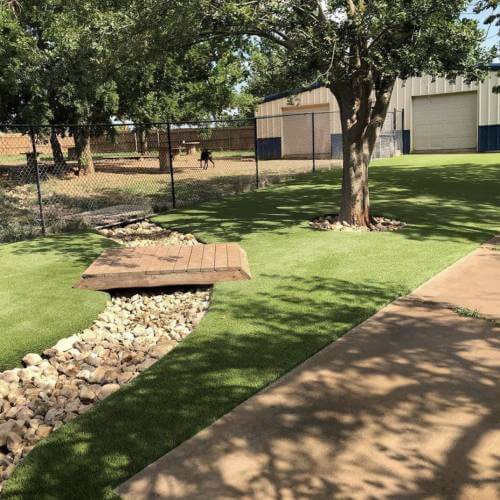 Benefits include, but are not limited to:
Super Yarn™ technology – antimicrobial, anti-static, and IR reflective enhanced turf yarn formula
EnviroLoc+™ backing system locks in turf fibers and prevents shedding with infused antimicrobial enhancements the prevent the growth of mold and bacteria
Omega blade turf fibers for a more realistic appearance and increased durability
HeatBlock™ technology provides 20% cooler surface temperatures when compared to alternative turf brands
Avoid improper installations that lead to unsightly seams and future turf replacement
Instantly boost your property value
Made in the USA in partnership with local soy farmers
Replaces significant amounts of petroleum with materials sourced from renewable soybeans
The first company to offer USDA-certified products
ASTM E-108 Class A fire-rated options available
Backed by our unmatched limited lifetime warranty
Fully licensed and insured to complete multi-million-dollar installations
Made in the USA with plant-based materials
The Safest Playground Turf in Warr Acre, Oklahoma
SYNLawn offers Oklahoma artificial grass playground surfaces in Warr Acres that offer unmatched safety benefits and superior durability. Thanks to the ADA and IPEMA compliance of our playground systems, long-term safety is ensured. Warr Acres playground turf systems are wheelchair accessible and do not move upon impact. Children are kept safe in every school and public playground because of SYNLawn's strict enforcement of fall height regulations. Our ground-breaking method and delicate grass fibers provide a playground surface that is hygienic, secure, and durable.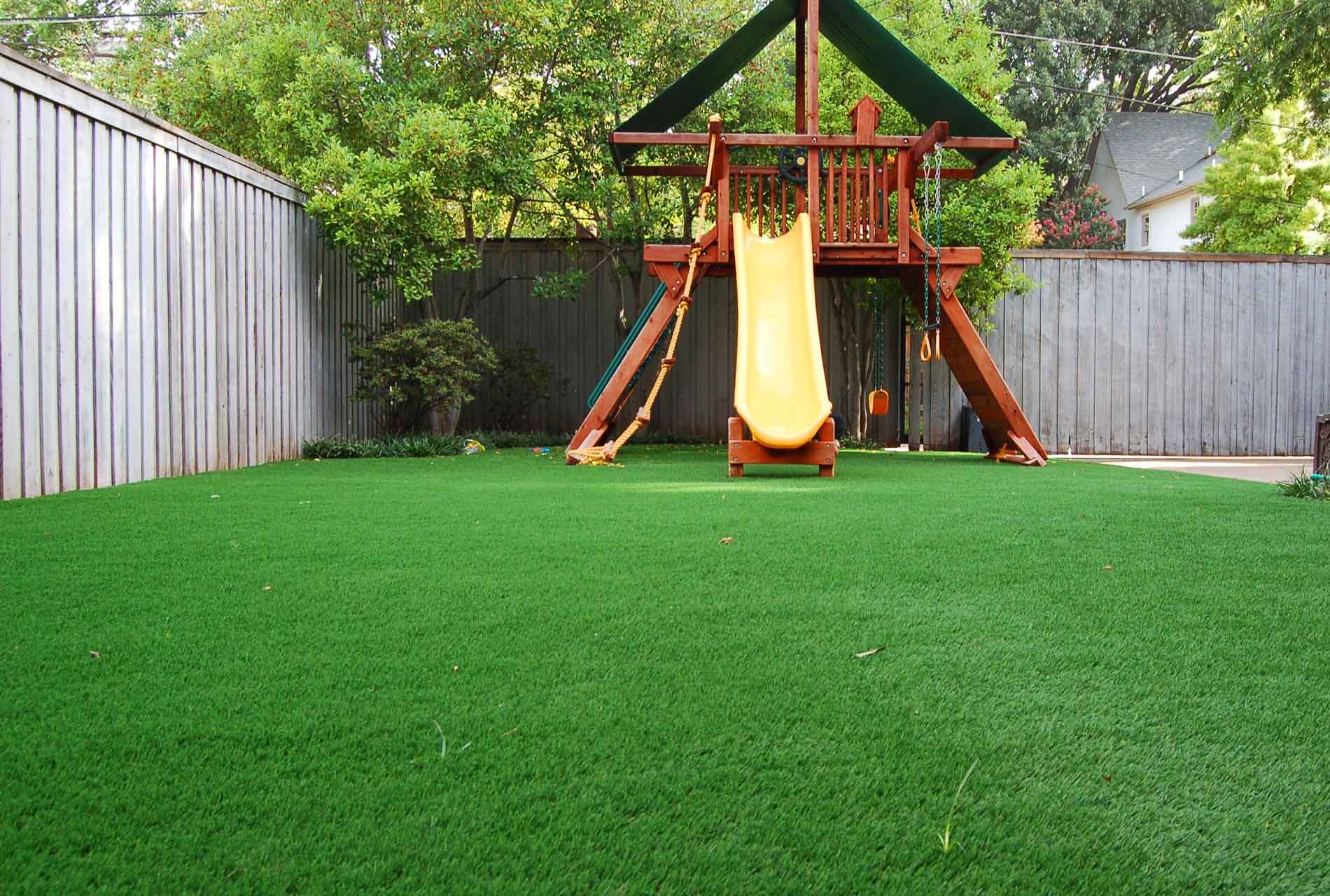 Oklahoma Putting Greens Engineered by Pro Golf Coach Dave Pelz
Warr Acres golf greens from SYNLawn are the most practical and realistic looking on the market. You can design a lovely landscape that gives you the best place to practice your short game and saves you time and money on grass upkeep. SYNLawn Oklahoma putting greens are meant to function similarly to those seen in professional courses. They were created in collaboration with famous golf coach Dave Pelz and an ex-NASA engineer to replicate natural grass greens as closely as possible. In addition to extraordinarily strong chipping surfaces, they offer a realistic putt, appropriate ball roll, natural ball bounce, and slow-down features and can only be installed by SYNLawn's highly trained and certified GreenMaster® installers.
Customize with sand traps, bunkers, LED cup lights, and more
Extremely durable surface to chip on
Does not require frequent sand top-offs found with competing putting greens
Enjoy lower scores on the golf course with convenient access to a PGA-caliber green
Made in the USA with the highest quality artificial turf
Monthly payment plans available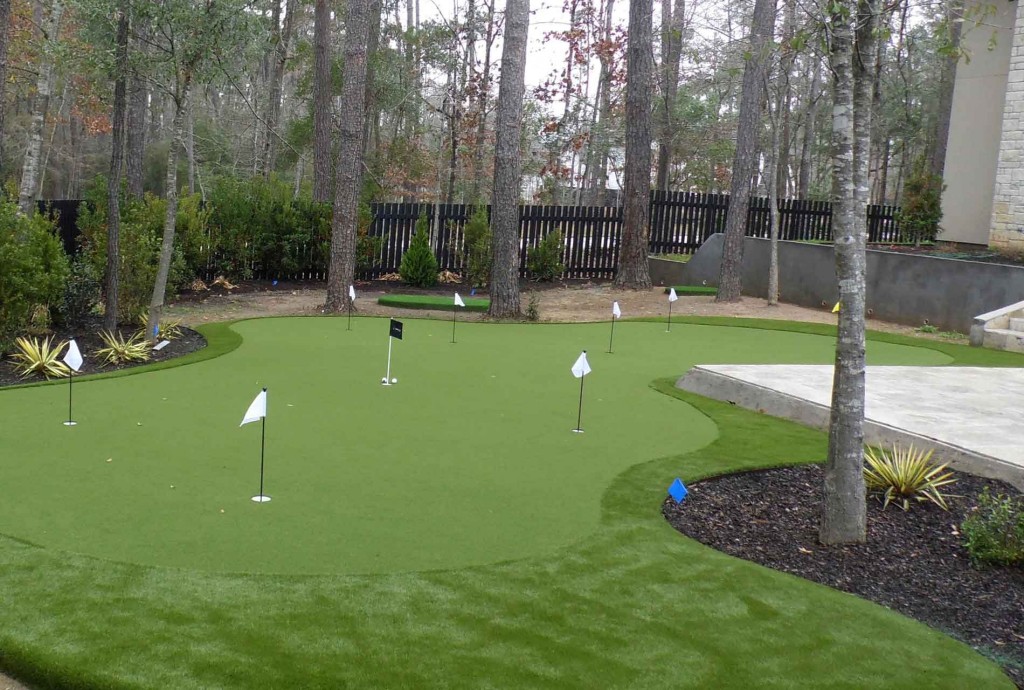 Keep Your Pets Happy and Healthy on SYNLawn Pet Grass
Pets owners all agree that they want their pets to be happy, but they also agree that it can be quite a task to provide them with the proper place to play. That is why SYNLawn created the most durable, sanitary, and eco-friendly artificial grass for pets in Oklahoma. No more muddy paws, holes, or unwanted pests. You can confidently let your pet run wild in your backyard or commercial dog park. Try as they might, they will not be able to dig through our incredible plant-based backing system, EnviroLoc+. In addition, Warr Acres pet turf systems effectively eliminate stains and odors caused by ammonia in pet waste thanks to our antimicrobial properties and utilization of a pet friendly infill from Envirofill®.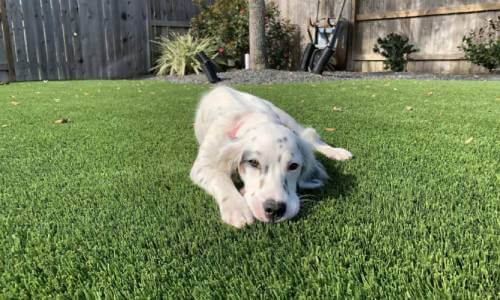 SYNLawn Oklahoma artificial grass in Warr Acres is expertly installed and features the latest in cutting-edge turf technologies. We specialize in providing the most precise installations and the best customer service in our industry. Take advantage of our time and money-saving benefits and enjoy your new lush and vibrant lawn today! Contact us to schedule a free consultation!