Oklahoma Artificial Living Walls – VistaFolia®
The elegance and vibrancy that VistaFolia® artificial living walls provide make them the perfect inclusion to your interior and exterior designs. Artificial green walls are manufactured with ultra-realistic faux foliage that provide gorgeous hues and lush textures to your home, office, bar, restaurant, and many other applications. Vertical plant walls are perfect for installation in unused space, awkward bare walls, and pool and spa areas that are looking for a touch of luxury. Oklahoma VistaFolia® artificial living wall panels provide a variety of exclusive features and benefits that make them the highest rated green wall system.
Oklahoma artificial green walls by VistaFolia® have the same amazing appearance as genuine plant walls without the inconvenience of maintenance. There is no need to set up elaborate irrigation systems, and no pruning or trimming is necessary. The modular components of our low-maintenance, realistic vertical plant walls come together flawlessly in any design you can conceive of. A plant wall may be used to welcome guests into your house or as a sound barrier and privacy screen outdoors. Our colorful plant walls may be customized to complement any style or color scheme by using a variety of colors and textures.
Advantages of Oklahoma Artificial Green Wall Installation
Our green wall panel system was created to answer the problem of greening places where real plants are difficult or unable to grow. They will bring life to barren and empty walls and vertical surfaces.
Quick and easy installation
Enhanced noise reduction and privacy screening
100% pure color pigments provide an ultra-realistic appearance
Customizable to any indoor and outdoor designs
Enhanced resistance to extreme weather conditions
Lightweight panels designed to allow free movement of air
Unmatched realism: exact colors, shadings, and dimensions
UV-protection to prevent fading of outdoor installations
Customizable arrangements with a range of color boxes
Manufactured to ISO 9001 quality standards
Fire tested and rated to industrial standards
5-year warranty
Customize Your Oklahoma Artificial Green Wall Panels
Customize your Oklahoma artificial green wall installation by choosing among 8 different color and texture boxes including a variety a different blossoms and fake plant types:
Soft Lavender Color Box
Spring Pink Color Box
Delicate White Color Box
Forest Flame Color Box
Soft Lavender Color Box
Spring Pink Color Box
Delicate White Color Box
Forest Flame Color Box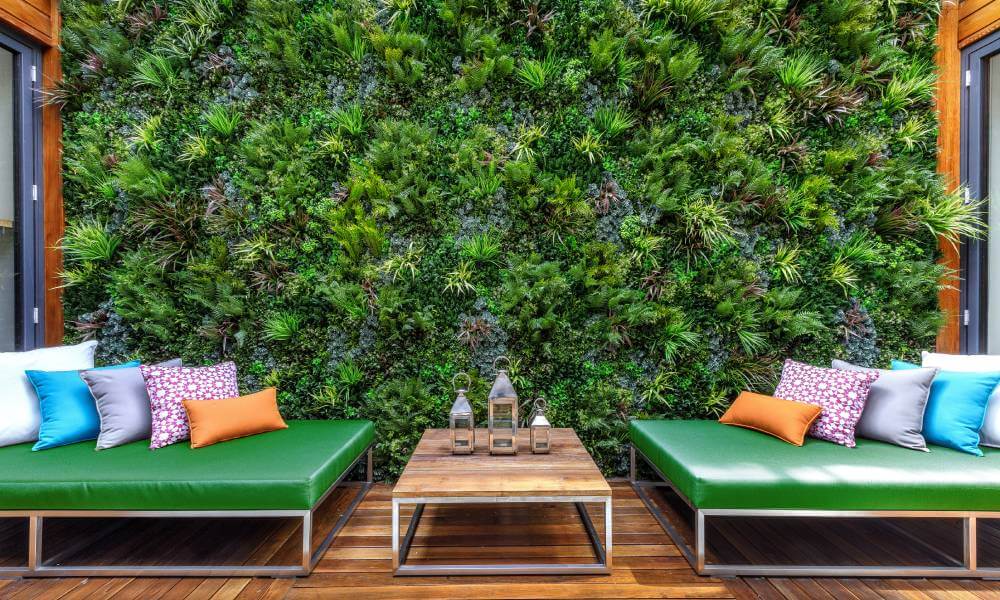 Commercial Artificial Plant Walls in Oklahoma
Artificial living walls in Oklahoma are ideal for retail and office space designs because they provide elegance and comfort without the need for strenuous and expensive maintenance requirements. According to research, introducing plants (real or artificial) to an area reduces tension and anxiety while also enhancing general attention and morale. You can transform your workplace into an urban sanctuary, increasing the mood and vitality of your employees and customers with our Oklahoma artificial green wall panels.
Oklahoma artificial plant walls are designed to withstand all climates. Our products are wind, freeze, and sun tested to endure the harshest weather conditions. Regardless of the climate or time of year, your Oklahoma artificial living wall installation will remain lush and vibrant. At SYNLawn® Oklahoma, our top priority is ensuring that your environment sets a lasting and impactful impression on your customers, family, or friends.
VistaFolia® vertical plant walls in Oklahoma allow customers to conserve an immense amount of water yearly and help to reduce water bills. Business owners will save time and money on maintenance with VistaFolia® products allowing them to reinvest back into their services.
We proudly service the following cities:
Tulsa | Edmond | Oklahoma City | Riverside | Union | Jenks | Enid | Still Water | Norman | Owasso | Oak Tree | Rose Creek | Deer Creek | Gaillardia | Nichols Hills | Bethany | Moore | Mustang | Yukon | Warr Acres | The Village | Arcadia | Guthrie
Schedule a Free Synthetic Living Wall Consultation Today!
VistaFolia® by Greener Walls and SYNLawn® Oklahoma work closely with their customers to bring their unique interior design and outdoor living space ideas to life. For more than 50 years, we have provided unmatched customer service and superior installations that last for many life cycles. Our products allow customers to achieve any and all projects and add luxury to any environment. Contact us today to schedule a free artificial green wall design consultation.