Artificial grass is widely known for its many applications including fitness/agility; however, the popularity of artificial turf in Moore, Ok has grown exponentially for residential homeowners and commercial properties. The SYNLawn landscape system is designed to help you cut the costs of landscaping by eliminating the need for mowing, watering, are reseeding. Instead, it provides you with the lush, green lawn you have always desired while adding a little extra green to your bank account. In addition, many of our synthetic grass options are USDA-certified and have 60–80% plant-based contents. Our products are ideal for those who are environmentally conscious. SYNLawn is the first turf company to offer USDA-certified products, and the only turf company to offer a synthetic grass made from plant-based materials. We have widest collection of artificial grass for your Oklahoma landscape needs.


Commercial Synthetic Grass Installation in Moore, OK
One major application of Moore artificial grass is commercial property installation. Business owners typically have little time for lawn care due to their many responsibilities. It takes time away from their customers and increases their expenditures with the need to hire maintenance crews. With SYNLawn, you reduce the amount of time and money spent maintaining your lawn by switching to a more modern, durable, and environmentally friendly synthetic grass made from sugar cane and soybean oil. When you choose SYNLawn, you also gain a number of extra advantages not offered by any other lawn alternative such as:
Moore, OK Pet Turf Systems
We all love our pets dearly, but there are many obstacles we sometimes have to overcome to maintain our landscapes after our pet have enjoyed it. The low-maintenance, exceptional durability, cutting-edge innovations, and eco-friendly features of our Moore pet grass are combined to produce the ideal pet turf option for any pet-friendly landscape. Pet owners can say goodbye to holes dug in the lawn, unwelcome fleas, ticks, and other pests, stains and odors caused by pet waste, grass allergies and more!
Moore, OK Golf Green Installation
The most realistic performing artificial grass putting greens in the industry are from SYNLawn. They range from basic practice greens to sophisticated golf greens with fairway, rough, and fringe surfaces, sand traps, bunkers and more. Moore, OK golf turf is ideal for your commercial installations, tee lines, outdoor shopping centers, full-sized mini golf courses, and of course, custom backyard putting greens. Additionally, SYNLawn offers indoor putting greens and golf simulator turf that can be enjoyed by golfers of all ages and skill levels.
The Benefits of SYNLawn® Artificial Grass for Playgrounds in Moore, OK
Moore, OK playgrounds have never been safer thanks to SYNLawn playground turf. Our playground surfaces provide kids with a cleaner, safer, and more comfortable foundation to play. With soft and non-abrasive turf fibers, shock absorption padding, antimicrobial enhancements, and the removal of chocking and fall hazards, your children can play with confidence knowing they are safe on the playground, jungle gym, and swing sets. Our playground turf systems are IPEMA and ADA compliant offering wheelchair accessibility and protection against common injuries and falls up to 10 feet. We are fully bonded and insured to work with school districts and municipalities to provide the children on Moore, Oklahoma with the safest playgrounds.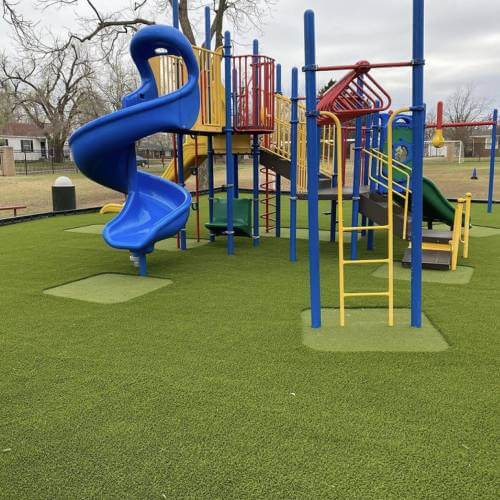 SYNLawn Oklahoma takes pride in providing great customer service and precision turf installation services in Moore, Oklahoma, and surrounding areas. Our synthetic turf products are backed by an unmatched limited lifetime warranty, and we offer monthly payment plans and financing options to make it easier than ever to enjoy the highest quality synthetic grass on the market. SYNLawn has more than 50 years of experience developing its ultra-realistic and eco-friendly grass alternatives to provide you with the best. For more information about our Moore artificial grass, contact us today and schedule a free consultation!