Oklahoma Artificial Living Walls by VistaFolia®
The beautiful Oklahoma artificial living walls from VistaFolia are created from state-of-the-art imitation flora and are made to order to bring your interior and exterior design concepts to life. We provide a wide range of plant combinations with our ultra-realistic foliage that can be customized to accurately replicate the hues, tones, proportions, and motions of genuine plants. Oklahoma artificial greenery walls are increasingly being used in exterior and interior design. The vibrancy, brightness, and color that our products give enhance any home design and are certain to increase your property value. Our outdoor artificial green walls are properly engineered and examined for durability and all-year-round appeal.
Our products are inspired by both nature and our customers. No matter the magnitude of the project, our team of experts will work directly with you to satisfy all of your specifications. Artificial green walls in Oklahoma can also be used to decorate a completely furnished living room or to fill unused space. Plant walls give additional privacy and sound insulation, as well as a perpetually flourishing aesthetic. Artificial green walls are free of insects and fungi that are harmful to plants and while homeowners may only be able to appreciate natural plants for a few days when the foliage is thick and green, VistaFolia products can last a lifetime.
Some unique benefits provided by our Oklahoma vertical gardens include:
Easy installation
Fire-rated to industrial standards
8 varieties of bright colors and lush textures to choose from
Lightweight panels designed to allow free movement of air
Unmatched realism: exact colors, shadings, and dimensions
UV-protection to minimize fading of outdoor installations
Customizable arrangements with a range of color boxes
Manufactured to ISO 9001 quality standards
No watering, trimming, or pruning required
Never fades in the sun
Allows for ambient noise reduction
Built to endure any weather conditions
Oklahoma Artificial Green Walls Designed with Your Home in Mind
Artificial plant walls offer a significant benefit to your home due to their minimal maintenance, adaptability, and more. Our customers love installing faux plant walls in their kitchens, outdoor patios, backyard walls, bathrooms, bedrooms, and living rooms, among other places. Using our color and texture boxes, you can build a green wall for any interior space. Our living walls are simple to install and need minimal upkeep.
Due to the intensive research and development that goes into the manufacture of our plant panels, our Oklahoma faux walls are often mistaken for real ones. Our innovations save countless gallons of water by eliminating the need for complicated and messy irrigation systems. You will only need to dust our foliage walls as necessary, freeing up your time for other pursuits, hobbies, or family time.
Additionally, it has been proven that VistaFolia living walls increase the energy efficiency of a house. During the summer months, artificial green walls may reduce the inside temperature of a house by up to 50 degrees Fahrenheit. They serve as an excellent temperature and wind barrier. Consequently, energy expenses are reduced.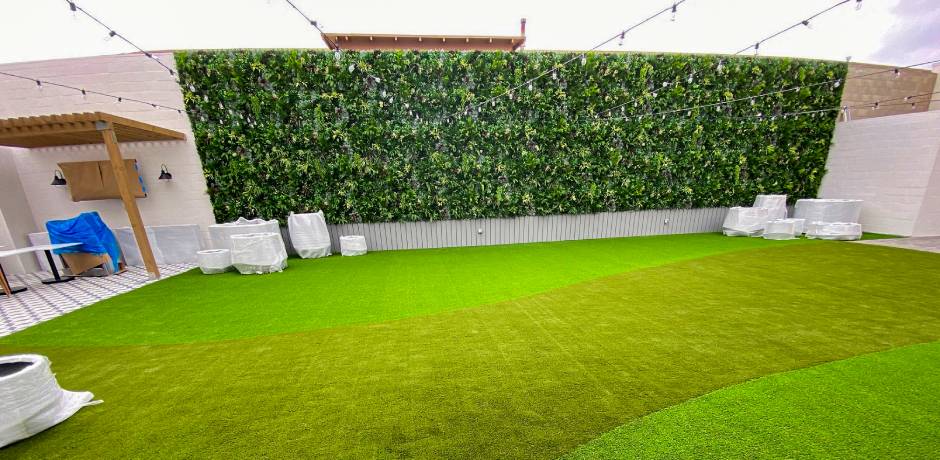 Schedule a Free Consultation Today!
Our designers create garden walls with the same colors, shading, scale, and movement as real-world planter walls. Our love of natural patterns influences our work. Our installation service is a meticulous engineering procedure combining artisanal and technical accuracy. VistaFolia vertical plant walls are created by highly skilled designers who specialize in the fabrication and installation of our living wall systems. With stunning, inventive living wall solutions, we can greatly improve any layout. For more information on our services and products, contact us today for a complimentary consultation!