Oklahoma Commercial Artificial Grass Installation
Amongst the many options for Oklahoma artificial grass, one major application is commercial properties. With everything that business owners are responsible for, they tend not to have the time for lawn maintenance. Hiring a maintenance crew takes time away from their customers and investments. By replacing your natural grass with a more advanced, resilient, and sustainable plant-based synthetic grass, you can save time and money on maintenance while enjoying numerous additional benefits not found in alternative lawn solutions.
SYNLawn is known for manufacturing state-of-the-art faux grass solutions that include the most innovative technologies. Many of which have led us to become a leader in the Oklahoma artificial turf industry. In addition, our products are perfect for the most ecologically conscious customers as many of our synthetic grass options are USDA-certified and offer 60-80% plant-based content. SYNLawn is the first turf company to provide USDA-certified products and is the holder of the largest collection to date.
Our extensive collection of Oklahoma artificial grass solutions is unmatched in durability, performance, and UV stability ensuring their pure color profiles remain vibrant all year long and can stand up to heavy foot traffic and high activity from children, pets, and athletes.
Finally, the traditional maintenance that would be typically required for natural grass no longer exists with SYNLawn in synthetic grass. No more, trimming, mowing, weed whacking, fertilizing, and no more mud.
Applications for Oklahoma synthetic grass include, but are not limited to:
Hotel Landscape
Restaurants/Bars
Museums
Parks
Apartment Complexes
Indoor Playgrounds
Employee Recreation Areas
Roof/Deck/Patio and More
SYNLawn® Synthetic Grass Goes Beyond Sustainability
SYNLawn is dedicated to furthering the many steps we take to create environments that are environmentally sustainable. To do this, we have formed a close relationship with US soy farmers so that we may locally source materials including soybean oil and sugar cane to replace more than 60% of petroleum materials from our manufacturing process.
One most notable advancement that has come out of our commitment is EnviroLoc™. EnviroLoc is an excellent example of how this can be accomplished. By substituting soybean oil for a big number of petroleum polymers, this backing system assists our environmental growth. By "locking" your grass in place, EnviroLoc prevents shedding and tearing. Our backing system's porous base also allows for optimum drainage. This means that you will be able to resume your usual activities quite shortly after coming into contact with water.
Who Offers the Most Advanced Faux Grass in Oklahoma?
The answer is quite simple, SYNLawn Oklahoma. No other competitor offers the enhancements, technologies, and ecological benefits that SYNLawn offers. We are the only company in the industry that manufactures its Oklahoma artificial turf with Super Yarn™ technology. This first-of-its-kind fifth-generation technology combines three of our most unique components to create one exclusive yarn formula.
Sanitized® Antimicrobial: Eliminates 99% of bacterial and fungus as well as odors and stains caused by pet waste
DualChill™ IR Reflective Technology: Enhances blade integrity by reflecting UV light
StatBlock™ anti-static: Carbon-based anti-static ingredient molecularly bound into the face fiber that inhibits the buildup of static electricity
SYNLawn® offers many additional benefits and technological advancements including:
Omega™ Technology: Provides long-lasting blade integrity
BioCel™ Technology: Soy-based backing that replaces the majority of petroleum found in standard turf backing
HeatBlock™ Technology: Significantly reduces surface temperatures
Optimal Drainage: Maximum drainage allows for immediate use after it rains
The strongest warranty against reflective light
IPEMA and ADA compliancy offer wheel compatibility and protection against common injuries and falls up to 10-feet
The largest collection of ASTM E108 Class A fire-rated products
Exceptional resilience to heavy foot traffic areas
Beautiful appearance all year long
Safe for kids and pets
Made with recyclable and eco-friendly materials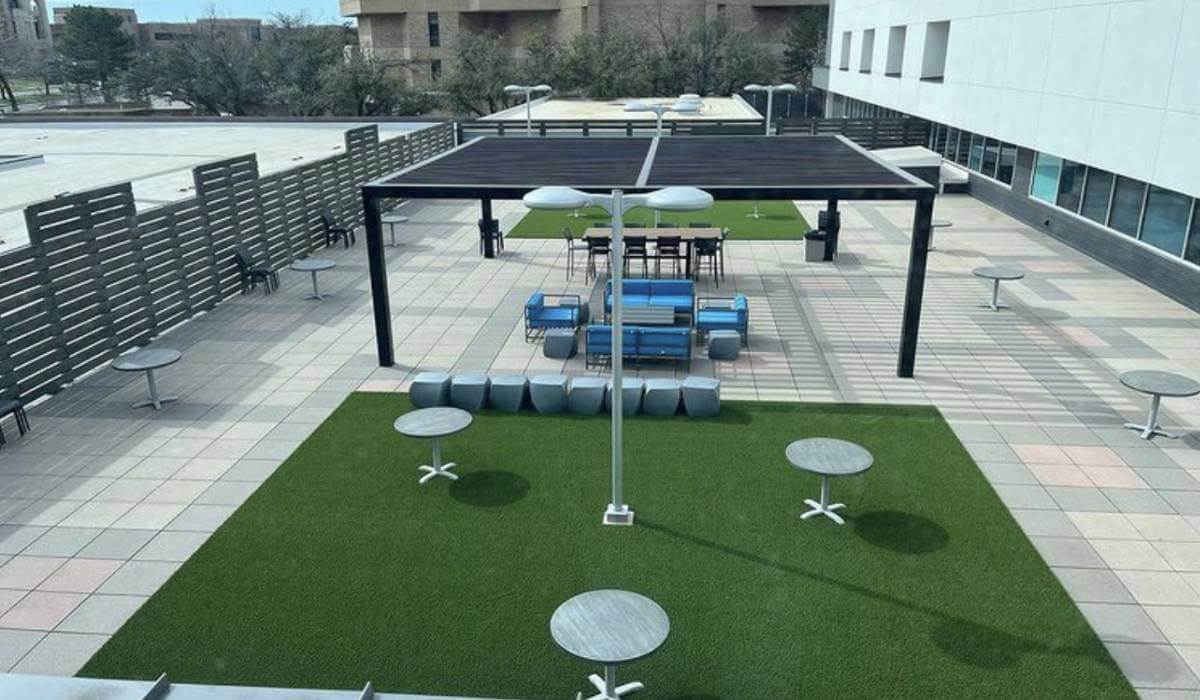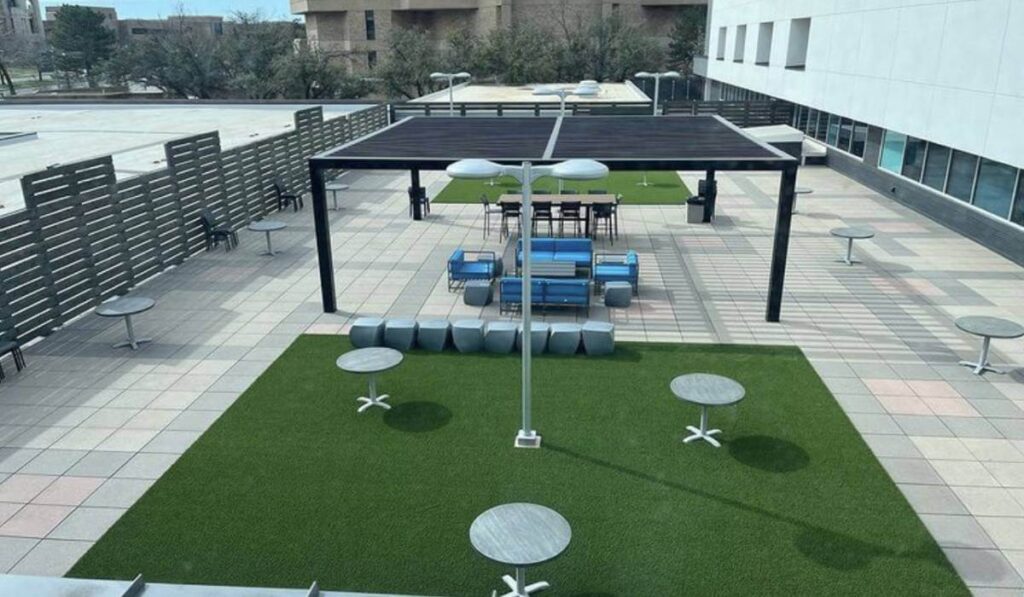 Schedule a Free Consultation Today!
SYNLawn has devoted itself to providing the greatest degree of customer care and the most precise installations for over 50 years. SYNLawn is committed to making all of your design ideas a reality, no matter what kind of project you are looking to take on. We are happy to offer our customers complete creative control over their designs and are pleased to collaborate with them to meet their specific requirements. Contact SYNLawn Oklahoma now to book a free consultation and to learn more about all of the services and products we provide!